Rising demand of eco-friendly products
In recent years, the detrimental impact of single-use plastic straws on the environment has become a pressing concern globally. Increased consciousness among consumers along with multiple restaurant brands such as Starbucks & McDonald's deciding to phase out use of plastic straws has significantly driven demand for alternatives like paper straws, biodegradable and eco-friendly in the last few years.
According to the recently published Eco-Friendly Straw Market Outlook Report by Future Marketing Insights, Delaware, USA, the eco-friendly straws market in India is projected to achieve a Compound Annual Growth Rate (CAGR) of 14.1% from 2023 to 2033. This growth rate represents the second highest among all countries worldwide.
The increasing sustainability trend and the combination of heightened demand for eco-friendly products in India, along with government regulations on plastic usage, will continue to play a significant role in driving the demand for biodegradable straws, reusable straws, eco-straws, and similar alternatives in future.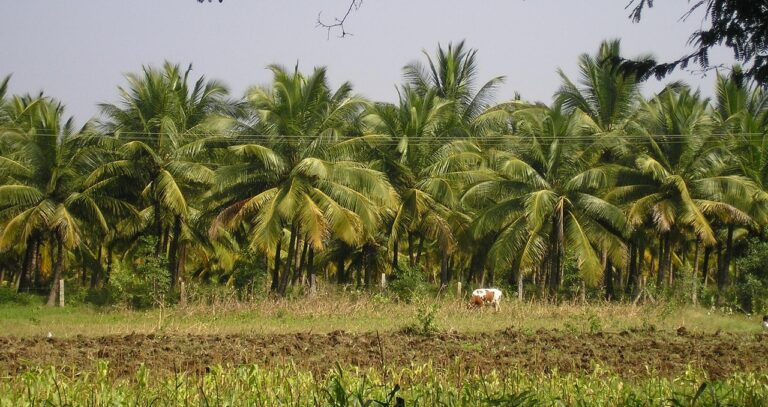 While various alternatives to plastic straws, such as paper, bamboo, and papaya leaf straws, exist, India holds the distinction of being the largest coconut-producing country globally. In the year 2021-22, India accounted for approximately 31.45% of the world's total coconut production, with a staggering 19,247 million nuts. This crop contributes significantly to the country's gross domestic product (GDP), amounting to approximately Rs. 307,498 million (US$ 3.88 billion) as per stats available from India Trade Portal. Hence among the range of alternatives, the standout option is the coconut leaf straw.
In this blog post, we will explore the reasons why coconut leaf straws shine brightly as the future of sustainable sipping.
Advantages of Coconut Leaf Straws
Environmentally Friendly Production: Coconut leaf straws are crafted from the fallen leaves of coconut palm trees, offering a sustainable and renewable resource. In contrast to plastic straws that contribute to the alarming pollution crisis and take an extensive amount of time to decompose, coconut leaf straws are both biodegradable and compostable. Furthermore, coconut straws even surpass bamboo straws in terms of sustainability, as the production of bamboo straws involves cutting stems from tress, sun-drying them, and then shaping them into suitable straw lengths.
Strength and Durability: One might assume that coconut leaf straws are fragile compared to their plastic counterparts. However, these straws possess remarkable strength and durability. The natural fibers within the leaves lend them the necessary structural integrity to withstand liquids for extended periods. Unlike paper straws that can become soggy and lose their form, coconut leaf straws maintain their shape, allowing you to enjoy your beverages without any compromise.
Versatile and Aesthetic Appeal: Coconut leaf straws offer an appealing aesthetic that enhances the overall drinking experience. The natural texture and earthy tones of these straws create a charming and tropical vibe, perfect for cocktails, smoothies, and refreshing beverages. Their versatility extends to various sizes, allowing them to accommodate different drink types. Whether it's a thick milkshake or a delicate herbal tea, coconut leaf straws can handle it all.
No Chemical Contamination: One of the major concerns with plastic straws is the leaching of harmful chemicals into beverages. Coconut leaf straws provide a chemical-free alternative, ensuring that your drink remains pure and untainted. Unlike paper straws, which sometimes use adhesives or chemical coatings, coconut leaf straws are free from such additives, guaranteeing a safe and enjoyable drinking experience.
Supporting Local Communities: The production of coconut leaf straws often involves local communities in regions where coconut trees thrive. By choosing these sustainable alternatives, you contribute to the economic empowerment of these communities. Additionally, supporting local industries reduces the carbon footprint associated with long-distance transportation, further strengthening the environmental impact of coconut leaf straws.
Cost-Effective and Widely Accessible: While plastic straws can seem cheaper initially, the long-term costs associated with environmental damage and waste management far outweigh the initial savings. Coconut leaf straws offer a cost-effective alternative that aligns with your eco-conscious values. Additionally, these straws are becoming increasingly available in various stores and online marketplaces, making them easily accessible for consumers worldwide.
In the quest for a sustainable future, at qudrat we are focused on making mindful choices to produce products that promote environmental well-being with no compromises to the quality and user experience.
Our Coconut leaf straws not only surpass plastic and paper straws by offering an environmentally friendly, durable, aesthetically pleasing, and chemical-free alternative but also support the local community, reduce pollution and help protect marine life.
So, the next time you reach for a straw, consider the countless benefits of coconut leaf straws, and make a positive change, one sip at a time.